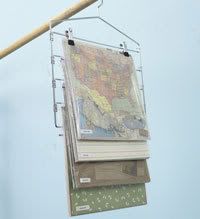 How great of an idea is this?! (Seen on Scrapbooks Etc website). Imagine sorting paper by theme, kit or color into baggies- then hanging on these. You could then take a strip of wood, add cup hooks down it, hang the wood vertically down a wall, and have room for multiple hangers. Or, I have seen these hangers used for ribbon storage. Just hang a different color on each bar-- either on the roll or loose. What about chipboard storage? You could have a bag for cursive fonts, one for type fonts, one for decorative shapes, one for frames, etc... Or magazine storage- one bag for each title, multiple issues per bag. Or an idea file- one bag for sketches, one for pages torn from mags, etc. So many uses-- and these babies are no more than $5 each at your basic super store. Free if you steal it from the closet, lol!

Scrapping Cents Sightings:

BL: Martha Stewart products are starting to show up in BL's across the country. These seem to be the products clearanced from M's last season- but if you missed it then, you have a second chance.

TJ Maxx/Marshalls: A couple of WRMK alphabets have appeared in these stores. A small tub of pink/brown chip, and various metals.