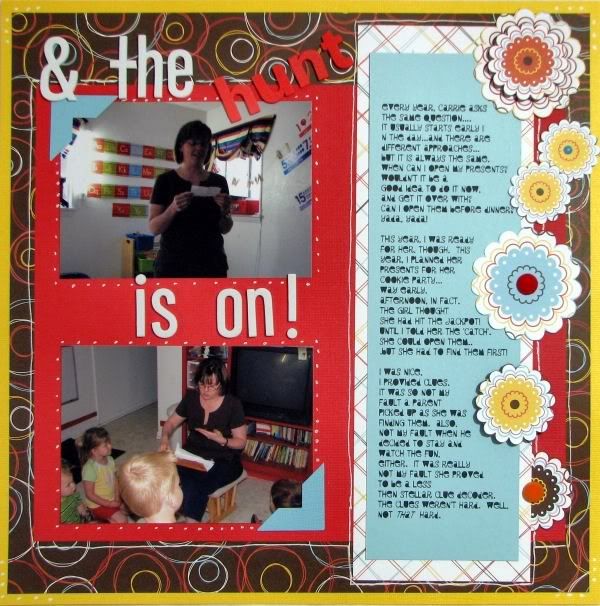 This month's sketch has been posted over at My Sketch World...too fun!! This one was a 2 page sketch- with the option of using one side or the other. Well, I cannot remember the last time I did a 2 pager- so I chose the right side of the sketch. And had a blast with it!! I had been dying to use this wonderful- and cheerful- AC paper. This layout was perfect for that!
Supplies: Paper: American Craft,
Hobby Lobby; Letters: AC Thickers, Target; Brads: Spare Parts;
Pen: Zig Uniball; Font: Sybil Green
Journaling:
Every year, Carrie asks the same question....it usually starts early In the
day...and there are different approaches...but it is always the same.
When can I open my presents? Wouldn't it be a good idea to do it
now, and get it over with? Can I open them before dinner? Yada,
Yada!
This year, I was ready for her, though. This year, I planned her presents
for her Cookie Party...way early. Afternoon, in fact. The girl thought she had hit the jackpot! Until I told her the 'catch'. She could open them...but she had to find
them first!
I was nice, I provided clues. It was so not my fault a parent picked up
as she was finding them. Also, not my fault when he decided to stay and watch the fun, either. It was really not my fault she proved to be a less then stellar clue decoder. The clues weren't hard. Well, not THAT hard.