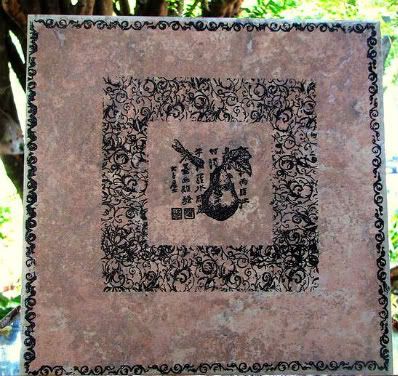 I made this tile for an article for Scrapbook News and Review. The point of the article was to show how stamps could be used off the page. Such great little tools, our stamps are, and if we can make them even more useful- well, it just helps justify the expense, huh?

This tile was a breeze to make, and turned out so cool. To do this, or stamp on ceramic or glass, just follow these basic steps:

-Clean the surface before stamping.
-Using a watermark ink, stamp your images.
-Apply embossing powder in the color of your choice. Tap off excess. Tip: use a small paintbrush to help chase away even the tiniest of stray powder specks.
-Using heat gun, start heating powder. KEpp in mind, this part takes considerably longer than embossing on paper. Just keep heating, it will emboss.

Voila! Easy, peasy and oh so fun! Now, picture this, only with 4" ceramic tiles. Add a little cork to the back, and you have a set of coasters for a great Christmas Present.