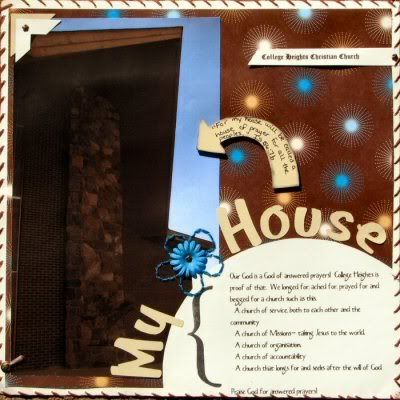 This was from last week's Challenge over at FaithSisters...the challenge was to tell about your church.

Paper: Paper Studio, HL CS
Chipboard/brads: Spare Parts
Misc: Fiber, DMC floss
Stamp: HOTP Flourishes


Journaling:
Or God is a God of answered prayers, College Heights is proof of that. We longed for, ached for, prayed for and begged for a church such as this.
A church of service- both to each other and the community.
A church of Missions
A church of organization
A church of accountability
A church that longs for and seeks after the will of God


Praise God for answered prayers!

Why not come join in this weeks challenge? The theme is Faith Prevails. Come take a look- these challenges are a blast!