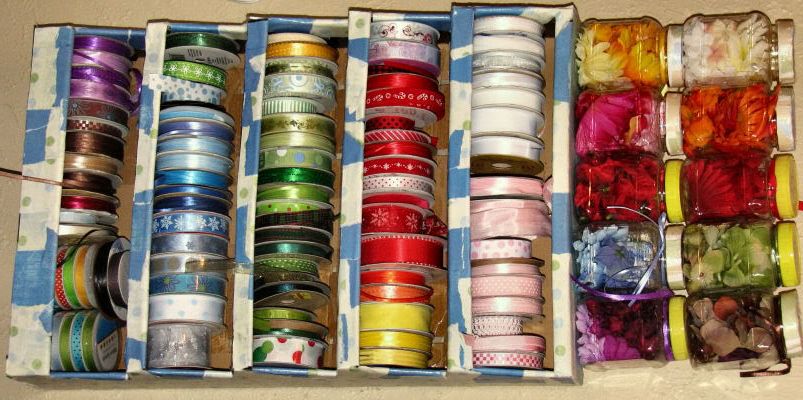 I have actually called ribbon storage the Holy Grail of Scrapbooking- and it is. Everybody is looking for the perfect solution...someone could make a fortune, I swear! Wanna see mine? See? Ribbon stays vertically stored, no rolling, room for almost a hundred rolls. Want to know what it cost me? Nothing. Zip. Zero. Nada. Gotta love it! You want to know where, right? Big Lots. So, here is the story...I am out on a mission one day last year- ribbon storage or bust! I have gone to literally every store I can think of- nothing. Now, I am willing to pay some bucks, here- it just didn't exist. Finally, I am walking through BL, and what do I spy? Their Christmas ribbon for sale---in this handy little cardboard endcap. I asked the manager- cause it was almost empty- and she was thrilled to give it to me. A little alteration...and we have ribbon storage. I actually have another one in storage- there for when I need it. Just thought I'd mention it...it being the Christmas ribbon selling season, and all.

Scrapping Cents Sightings:

BL: Lots of cool MM Garden Party accessories...for $1!

Scrapbook News and Review: Sept issue is up- and remember: pay for one month, and you get access to EVERY, single issue we have ever published for that month. Now, THAT is a bargain!!