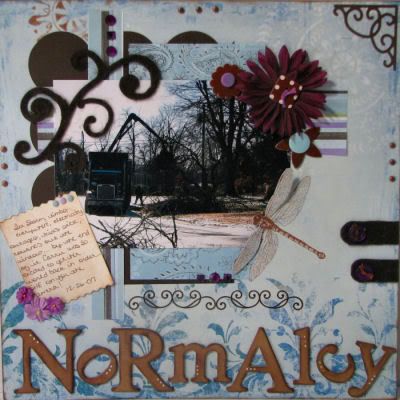 This was after our major ice storm this winter...the journaling says it all: 'Ice storms, power outages, sickness, routines out the window...by the end Carrie was so excited to get her world back in order, she ran for the camera."

Materials: Paper: MME, Bazzil, Dejaviews
Brads, buttons, chipboard, rub on- Spare PArts
Flowers: Prima, MM Chip
Gemstones: Target
Chip button, brad- MM
Felt
Page corner: Sizzix

And, now, the TOOT!! I have been named to the 2008-2009 design team over at My Sketch World...woo-hoo! I am very excited- these are some wonderful sketches. If you have never visited, I would encourage you to take a look- there are layout sketches in a variety of sizes and formats, and lots of lovely card sketches, too. Definitely a wonderful resource for any scrapper!!