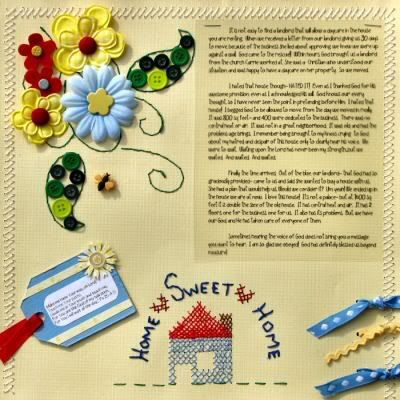 This was hours of cross-stitching on paper, but I loved the home-spun flavor.

Paper: DCWV TCS
Embellies: flowers, primas, dmc floss, spare parts chipboard and brads, mm ribbon, amm ribbon, buttons


Journaling:
It is not easy to find a landlord that will allow a daycare in the house you are renting. When we received a letter from our landlord giving us 30 days to move, because of the business she lied about approving, we knew we were up against a wall. God came to the rescue!! Within hours, God brought us a landlord from the church Carrie worked at. She was a Christian who understood our situation, and was happy to have a daycare on her property. So we moved.


I hated that house, though- HATED IT! Even as I thanked God for His awesome provision, even as I acknowledged His will. God knows our every thought, so I have never seen the point in pretending before Him. I hated that house! I begged God to be allowed to move, from the day we moved in, really. It was 800 sq feet- and 400 were dedicated to the business. There was no central heat or air. It was not in a great neighborhood. It was old, and had the problems age brings. I remember being brought to my knees crying to God about my hatred and despair of this house, only to clearly hear his voice. We were to wait. Waiting upon the Lord has never been my strength...but we waited. And waited. And waited.


Finally, the time arrived. Out of the blue, our landlord- that God had so graciously provided- came to us and said she wanted to buy a house with us. She had a plan that would help us. Would we consider it? Um, yeah! We ended up in the house we are at now. I love this house! It's not a palace- but at 1600 sq feet it is double the size of the old house. It has central heat and air. It has 2 floors, one for the business, one for us. It also has its problems. But, we have our God, and He has taken care of everyone of them.


Sometimes hearing the voice of God does not bring you a message you want to hear. I am so glad we obeyed! God has definitely blessed us beyond measure!